Welcome to our Northernwhites website.

We have been breeding and raising White German Shepherd dogs for over 20 years.
We have our own pack here working on our ranch, protecting our cattle from wolves and other predators. We sell just pet stock and they are guaranteed to be sound and healthy when they go to their new homes. Each pup comes with non-breeding agreements. We have bought breeding shepherds that have fair to good hips in their bloodlines and sound health records. Following along with our previous puppy owners over the years we have noticed a very small percentage of ailments and diseases or disorders. White German Shepherd's genetics have proven to have less ailments in their breed.
They are a family dog, a guard dog, and a companion. We have loved the breed for so long and strive to keep the White German Shepherd genes pure and strong.


Pisces watching over the piglets


---
This is our new female Ida. She is from highly trained German bloodlines. She has picked up training very quickly in her first year and is a wonderful family dog. Like no other dog we've had before, she watches our faces as we talk and follows the conversations between us as if she can understand what we are saying. Besides her intelligence, she has a heart of gold, playing with little dogs and puppies, respecting cats, and being a loving family member. She loves playing fetch with her Chuck-It ball and brings it right back to my feet every time. Ida loves swimming and playing in the creek, she also has become fond of camping with us. We look forward to Ida's puppies in the near future.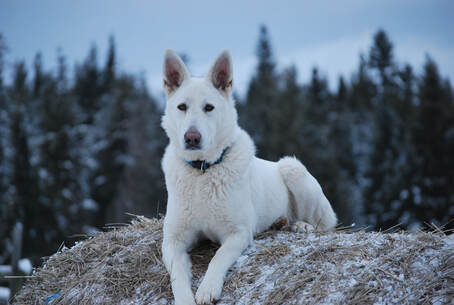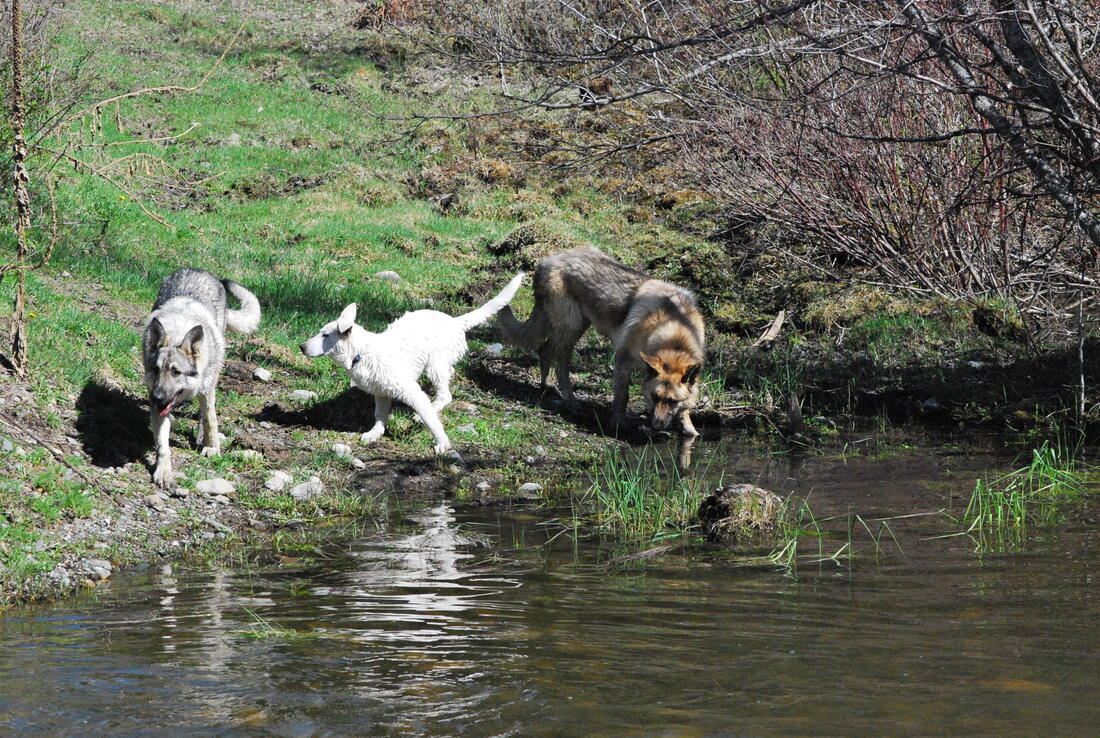 Pisces in the mist. He is our boy who watches over the ranch.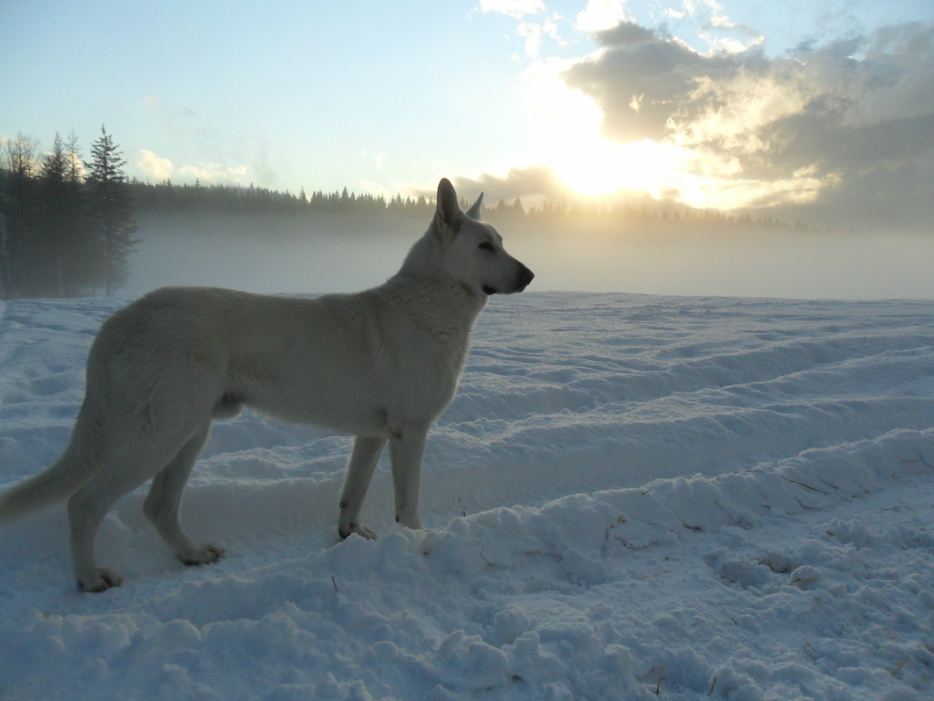 This is Moon, her bloodlines still run in Northernwhites puppies today. She was very energetic and liked to be with us all the time. She loved to swim and was quite content to lay in the back seat of our vehicle. Her favourite toy was her large panda bear stuffy.

Maza is the daughter of Moon and Rico. She has done very well in obedience training. Maza has search and rescue potential, playing hide and seek and sniffing my daughter out when she was high in a tree.
The puppies are raised outside after 3 weeks old so they can experience the elements and all of our many different animals on the farm. They meet and play with the other shepherds who are of different temperaments and ages.



More about Pisces!

Pisces is our very noble male white shepherd who is always watching over our farm and the other dogs. He gets along with all of our cats and is with the cattle, horses and chickens everyday. He is over 110 pounds and is very calm and attentive.

---

If you would like to see more about our ranch, check out our Chub Lake Ranch website: chublakeranch.ca/index.html